Project Snapshot
The Bullitt County Chamber of Commerce is an association that promotes and protects businesses interests in Bullitt County, Kentucky. Their mission is to connect members and empower businesses to strengthen the Bullitt County community.
When they approached us for a re-design their website was outdated and not user-friendly. They wanted a better user experience for their members and website visitors, and they also needed to integrate the website with their association software.
Our Solution
We worked closely with the Chamber to build a new website from the ground-up! We took our time to map out user journeys for each target audience so that website visitors can easily find the information they need regardless of whether they enter the site through the homepage.
We also collaborated with ChamberMaster to integrate membership portals and dynamic data pulls, which allows the Chamber to share the most up-to-date information on their calendars and in their membership directory while also keeping Members Only data safe behind a login screen.
The Results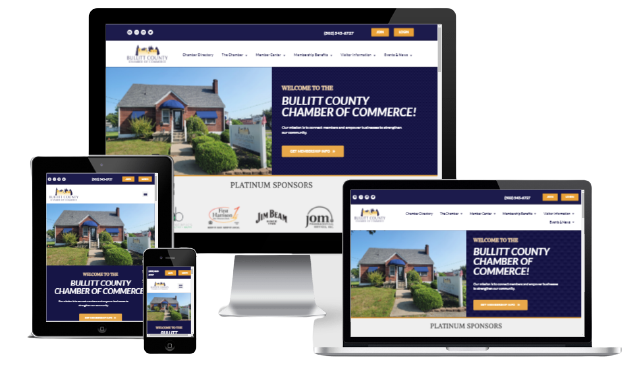 Click here to view the Bullitt County Chamber of Commerce's website.
Bullitt County Chamber of Commerce Testimonial