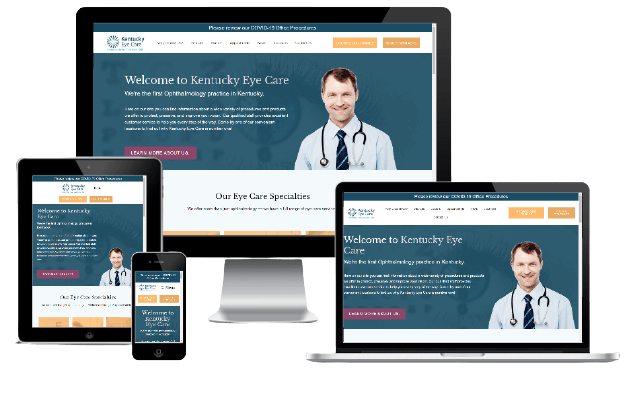 Project Snapshot
Kentucky Eye Care is an ophthalmologist and optometrist group located in Louisville, KY and surrounding areas. Kentucky Eye Care is a well-established company, having been in business for 126 years, but they were in need of a website redesign that focused on the desired actions they wanted their customers to take on the page. Specifically, they wanted to make it easier for customers to make their appointments. They also wanted to educate customers that they offer both ophthalmology and optometry services.
Our Solution
We understood the importance of ensuring that Kentucky Eye Care's patients make their appointments quickly and easily when visiting the website. To achieve this, we implemented a prompt for visitors on the homepage which asks them if they'd like to make an appointment or call a KEC office. The prompt is programmed to only appear once during a visitor's time on the site, so it does not act as a nuisance.
Additionally, we installed a sidebar menu that is easily seen from every page on the website. This sidebar menu also gives visitors the opportunity to make an appointment, make a payment, or contact a KEC office. On mobile devices, this menu intuitively combines itself with the main navigation menu to save space on the mobile screen.
On top of the improvements we made to the user experience, we also re-organized the website content to establish a clear message about the variety of services that Kentucky Eye Care offers.
The Results
Click here to view Kentucky Eye Care's website.
Kentucky Eye Care Testimonial