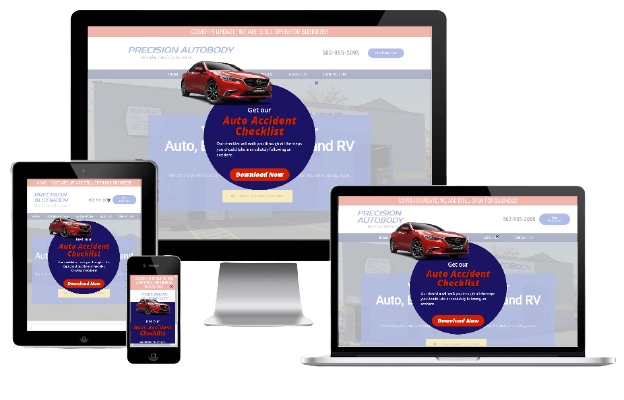 Project Snapshot
Precision Auto Body, Inc. is an auto body shop in Mount Washington, KY. Although they have a strong local reputation, they did not have a website at the time that they contacted us. They wanted to develop a site so that they could establish an online footprint and later focus on search engine optimization.
Our Solution
We wanted to make sure that the new website integrated easily with Precision Auto Body's workflow and existing processes. We performed a deep-dive with the owners to understand what a typical customer's journey looked like from both the customer's perspective and the body shop's perspective.
After this discovery was complete, we determined that it would be beneficial to bring some of the customer information and workflow online through the website. Precision Auto Body offers its customers a helpful Auto Accident Checklist, which we made easily available as soon as a customer visits the homepage. We also created a Customer Portal, where users can easily find information such as how to get help with insurance claims, rental car assistance, and more. We also made it easy for customers to submit their information online in order to get an estimate for repairs.
To assist with future SEO efforts, we built landing pages for each area of service to give Precision the opportunity to rank for more than just auto body repairs.
The Results